Seeds of Chaos
Version 0.2.47 Now Public
---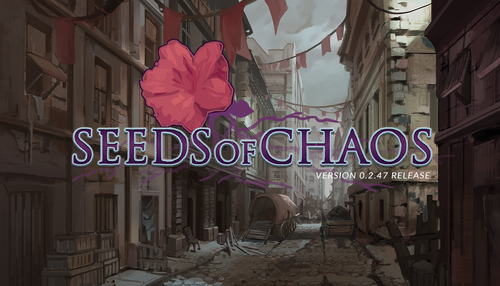 After a pretty epic sixteen-hour workday on Saturday, we released the new version of Seeds of Chaos to our backers. It was a big one, with over twenty-five thousand words of new content, including yet more Rastedel event, a new BDSM scene for Rowan x Liurial, a new Fey narrative scene, and the hotly awaited conclusion to the initial Andras x Alexia NTR path event. As always, this means our previous release is now available to the public.
Once again, the focus this month was on adding more Rastedel content as we move towards getting it completely finished over the next two months, and Winter has written two more events that bring us quite close to the end of the current phase. We also have one new ruler event that further explores Rowan's relationship with Cliohna, for those of you interested in our resident librarian, as well as a new Fey event with the foxy (pun intended) Heartsong.
ART
This month we have eight new CGs with 17 variations. We also commissioned a new character sprite and background that will be added in next month's release.
- Drider Attack
- Spy (Orc) x Delane (Blowjob)
- Alexia x Liurial (Lesbian)
- Jezera x Alexia (Lesbian, Femdom, Facesitting)
- Obelius x Rowan 1 (Gay)
- Obelius x Rowan 2 (Gay)
- Jezera x Rowan 1 (Femdom, Handjob)
- Jezera x Rowan 2 (Femdom)
NEW EVENTS
Once again, as previously mentioned, we have pushed forward with the Rastedel narrative arc, adding two more events where Rowan carries out his first task for his chosen ally. We also have one new ruler event featuring Cliohna, that diverges heavily depending on Rowan's previous two encounters with her, as well as a new Fey narrative event with Heartsong.
This month we have three new sex scenes:
- Rowan x Heartsong (Vanilla, Anthro)
- Cliohna x Rowan (Femdom)
- Orc Gangbang (Orc, Groupsex)
Version 0.2.47 of Seeds of Chaos is downloadable for Windows / Linux, Mac, and Android here. Please consider supporting us on Patreon.
Files
seeds-of-chaos-0.2.47-pc.zip
343 MB
Sep 03, 2019
seeds-of-chaos-0.2.47-mac.zip
326 MB
Sep 03, 2019
seedsofchaos.version0247-247-armeabi-v7a-release.apk
391 MB
Sep 03, 2019