Seeds of Chaos
RELEASE 0.2.60 - NOW AVAILABLE ON PATREON
---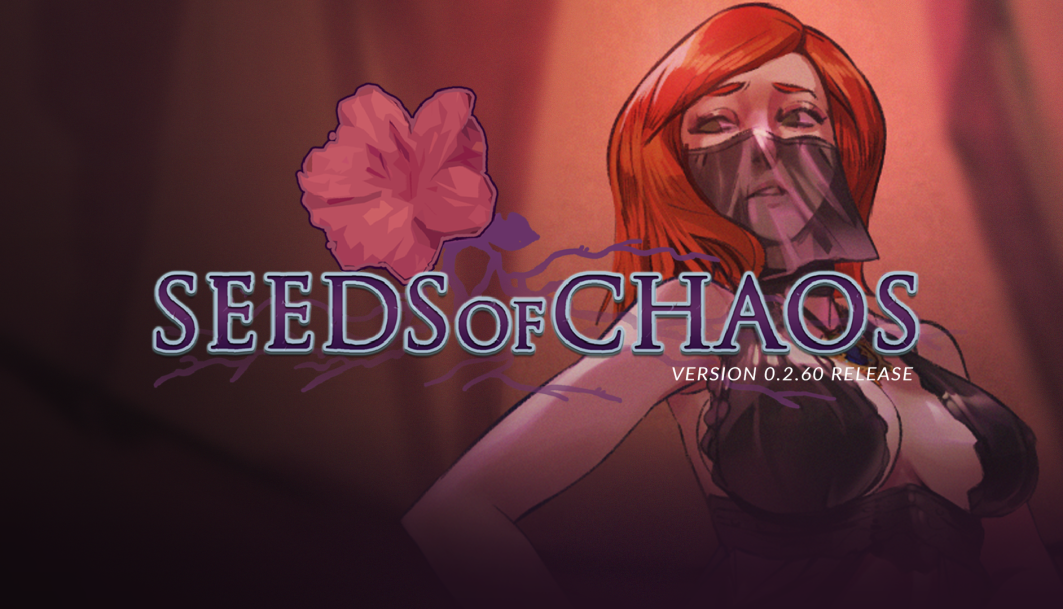 Hello everyone,
Once again, it is time for a new release, and as usual, we have managed to get it out on time like clockwork, keeping our streak of well over a year going. Things continue to go relatively well; the Patreon remains steady, sales are slightly up on Steam thanks to the new version release, and all of the staff are doing okay.
Moving on to the release, we got quite a lot done this month. First up, we added the next event in the Alexia x Andras NTR path that some folks have been waiting for. We also have a few new sex scenes for Rowan, along with more for Alexia. Hooky has been working on rewriting older content, focusing primarily on the Fae, but also reworking some of the initial Greyhide events for his upcoming plotline. Speaking of NPC arcs, Rein finished his final event for Cliohna's, the dominant Rowan conclusion, and we also added a few more events from other pools to round the release out.
IMPROVEMENTS
Again, we have also been working on improving the gameplay experience on the whole. Our programmer Dragoon has reworked the workshop system on the backend for the upcoming mechanics improvements, and done the first tranche of revisions to the journal. We've also made a couple of improvements to the castle UIs, added scene names to events to help with bug reporting, and added the option to choose which hex you land on when leaving Rastedel.
ART
This month we have sixteen new CGs, with fifty-five variants, two new animations, and one new sprite:
Rowan x Alexia 1 & 2
Rowan x Delane 1, 2 & 3
Rowan x Tarish
Whitescar x Draith 1, 2, & 3
Jezera x Alexia 1 & 2
Alexia x Mikael 1 & 2
Alexia x Drider
Rowan & Alexia on the Battlements Story CG
The Harvest Festival Story CG
Rowan x Alexia Animation
Rowan x Delane Animation
Alexia Slut Outfit Sprite
NEW EVENTS
As mentioned earlier, we have a large new Alexia corruption scene, this time for the Andras path, as long as a new scene with Rowan where the pair are harassed by horny succubi. She also has two new job events for the maid job, both including sex scenes. On the castle NPC front, we have the aforementioned Cliohna event, and Hooky has completely reworked the first two Greyhide events (introduction and "Drinking Buddies") as well as written a new repeatable sex scene for Rowan and Greyhide that can be triggered from the forge. He has also written three new Fae events to serve as an introduction to Fae plotline (and replace the map events people were having trouble finding), as well as completely rewritten the scene where the Fae arrive at the castle.
We also have two other ruler events, one which includes a new sex scene involving Rowan and Jezera, as well as a new map event for the mine resource, which also includes a Rowan sex scene. Lastly, we've done small rewrites to the scene where Jezera takes Rowan to form a potential alliance, and the scene where Rowan has sex with Tarish at the end of the Orciad, to improve them.
This month, we have seven new sex scenes:
Rowan x Alexia (Voyeurism, Light Maledom)
Rowan x Greyhide (Gay, Oral)
Rowan & Jezera x Maids (Group Sex, Yuri)
Rowan x Valrys (Light Femdom)
Andras x Alexia (NTR, Orgasm Denial)
Jezera x Alexia (BDSM)
Alexia x Mary (Yuri)
That's it for today's update! Version 0.2.60 of Seeds of Chaos is downloadable for Patrons pledging $5 and up.

You can also support us by purchasing the game on Steam:
New to the game? You can also play the free demo version below
Comments
Log in with itch.io to leave a comment.
Give my boy greyhide a few sex scenes with Alexia he deserve's some love.
I'm wondering wether alexia will ever be fully corrupted or can rowan ever possibly reverse her corruption?
We're currently creating mid corruption contents as of the moment. Should we reach an ample amount, high corruption is next.

The lowering of corruption score is up for debate but there are already scenes that favor Rowan in a high corruption score. it's a matter on how you do the run.
Hope this answers your question. :)
I'm just wondering how these updates go on steam? I bought it, but I can't really follow which version is on Steam and when will be updated too. Can somebody help me out?
Hello Hencuka,
This update will be included along with the proceeding build (.61) January next year along with an additional mechanical and art revamps we're currently working on.
The reason for this is to ensure that the next steam build will be as stable as possible as ,currently working on enhancing and updating the mechanical side of the game right now, we're getting alot of bug reports currently.
Hope this answers your question. :)