Seeds of Chaos
News From the Six Realms #57 - November Rain (of Blood)
---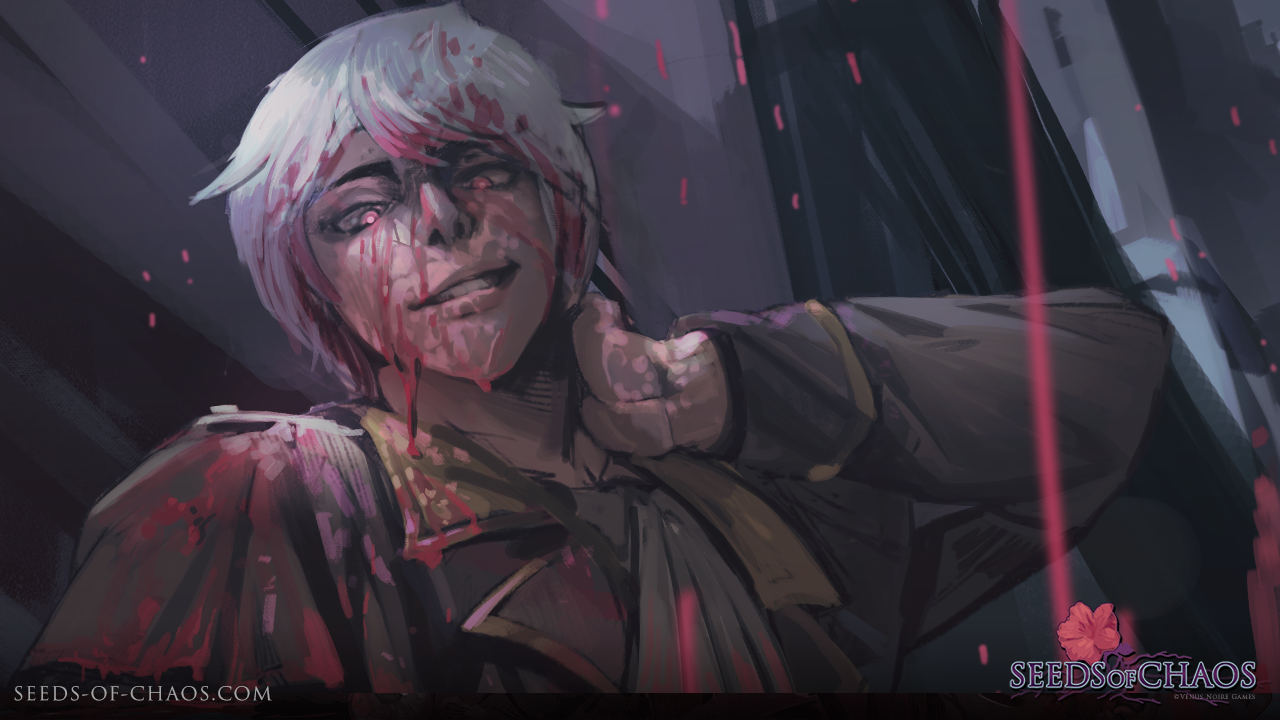 Hey everyone,
It's time for our monthly update on everything that is going on in the world of Seeds of Chaos. Back in full lockdown here, but doing my best to cope. In general, things continue to go well, we've had a bit of a drop off from last month, but that was expected, and we will probably bounce back up to 2k supporters after the new build is released later in the month. On the Steam side, sales continue to be steady, and we'll have another discount period during the upcoming Steam Fall Sale, so keep your eyes peeled for that.

Moving on to the release, most of the writing is finished now, and as always I'm in the process of coding and test all the new events to get it ready for the 29th. Also on the programming side, Dragoon has been working on fixing the reported issues, and well as adding some more QoL and UI improvements.
On the art side, all the linework has been sent off to our colourist, and I'll be sharing the finished pieces with backers over the next week or so as usual. Sommy has also finished a rather gruesome CG for the Rastedel arc, a portion of which you can see above, which will be featured in all its gory glory in the release.
This will be the final release of the year, and it is a good time to look back at the progress we've made. The company has grown in size, as we've been able to add more staff to the roster, and hopefully, the Patreon will continue to grow so we can keep growing too. This year has seen the completion of main story for Act I, the Rastedel arc, and we've also managed to catch up with our art backlog, that was at one time over 100 CGs behind. In addition to this, thanks to Dragoon we've made a ton of improvements to how the game looks and plays, including a number of QoL improvements people have been asking for for a long time.

Going into the next year, our focus is going to be on the castle NPC arcs, as well as the Goblin plotline, so we can hopefully move on to Act II some point in the near future. That's all for today, as usual barring my death or some similar disaster the release will be out on time as usual, which as mentioned earlier is the 29th.

You can also support us by purchasing the game on Steam:
New to the game? You can also play the free demo version below
Files
seeds-of-chaos-0.2.47-pc.zip
343 MB
Sep 03, 2019
seeds-of-chaos-0.2.47-mac.zip
326 MB
Sep 03, 2019
seedsofchaos.version0247-247-armeabi-v7a-release.apk
391 MB
Sep 03, 2019
Comments
Log in with itch.io to leave a comment.
when will the nxt steam update will be?
I hope it more Greyhide X Alexis, or Alexis and Orc scene.