Seeds of Chaos
Version 0.2.45 Now Public
---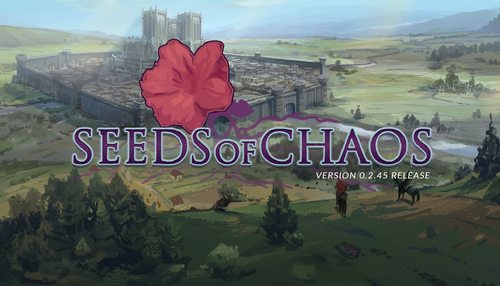 We've just put out our latest version to our backers, 0.2.46, which contains more Rastedel content, as well as the first half of the first Andras NTR chain event. As usual, this means it is time to release our last backer version, 0.2.45, to the public.

As with the past releases this year, we have once again focused on moving the Rastedel story forward, with an aim to wrap it up in the next few months. We've added the option to side with Duke Werden if a certain condition is met, as well as continued both his, and Jacques', story paths. That is not all though, we've added a bunch of other events, which you can read about further below.
ART
This month we have ten new CGs with loads of variants, as well as one new outfit for Alexia:
- Luirial Pinup (Solo, Stripping)
- Mary x Alexia (Lesbian)
- Batri & Andras x Rowan (Gay)
- Jezera x Rowan (Massage)
- Rowan x Alexia x Liurial (Threesome)
- Ulcro x Delane (Orc)
- Batri x Delane (Orc)
- Jezera x Alexia (Lesbian, NTR)
- Jezera x Doran (Femdom)
- Rowan Returns to Rastedel (Cinematic)
- New Alexia Outfit (Jezera's slave)
NEW EVENTS
In addition to the new Rastedel content, we also have a mixed bag of other events, including new ruler events, a new forest exploration event introducing two new characters, and a new Midnight Court event, featuring Arzyl.
This month we have four new sex scenes:
- Jezera x Alexia (Lesdom, Facesitting, NTR)
- Jezera x Arzyl (Lesbian, Exhibitionism)
- Rowan x Obelius (Gay)
- Rowan x Koh (Orc, Vanilla)
Version 0.2.44 of Seeds of Chaos is downloadable for Windows / Linux, Mac, and Android here. Please consider supporting us on Patreon.
Files
seeds-of-chaos-0.2.45-pc.zip
322 MB
Jul 01, 2019
seeds-of-chaos-0.2.45-mac.zip
304 MB
Jul 01, 2019
seedsofchaos.version0245-245-armeabi-v7a-release.apk
370 MB
Jul 01, 2019