Seeds of Chaos
Version 0.2.44 Now Public
---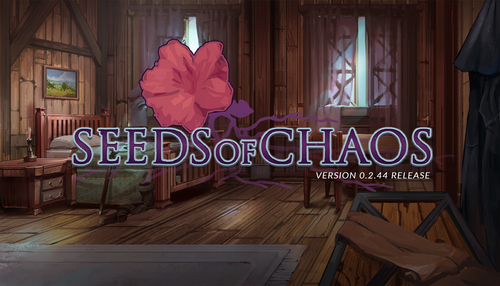 The new version, 0.2.45 is now available to our backers. It continues the Rastedel narrative, as well as including a number of new events, four sex scenes, and ten CGs. As usual, this means our previous version is now free to play.
This one marked a big milestone for us - the game now contains over five hundred thousand words of text. The focus this month has once again been Rastedel, as we slouch toward the conclusion of act one. Players can now revisit the city to meet characters old and new, and make an important decision about how the story will play out.
In addition to that, we also have new events in other areas of the game, as well as plenty of art. Over the next few months, we'll be working on refining elements of the gameplay and overhauling certain mechanics; you'll be hearing more about that in future release posts.
ART
This month we have eight new CGs, with thirty variants, as well as new character sprites and backgrounds:
- Rowan x Transformed Orcess CG (with four variants)
- Wulump x Female Commander CG (with four variants)
- Rowan x Young Aspirant CG (with five variants)
- Rowan x Delane CG (with seven variants)
- Rowan x Village Girls CG
- Rowan x Helayna CG (with three variants)
- Jak x Indarah (with four variants)
- Andras x Draith
- Jezera x Helayna (with three variants)
- Copper Club Background
- Rastedel Inn Room Background
- Liliana Character Sprite
- Mysterious Male Character Sprite

NEW EVENTS
As mentioned earlier, the main focus of this month has been continuing the Rastedel storyline so we can finish the first arc. Players can now meet with Jacques, Duke Werden, and Patricia Crevette to discuss the situation in the city, and how they would improve it, before deciding which to side with.

In addition to the Rastedel content, we also have one new ruler event, one new job event for Alexia, as well as three new resource events.
This month we have two new sex scenes:
- Rowan x Alexia (Vanilla)
- Rowan x Two Female Orcs (Orcs, Threesome, Pegging)
Version 0.2.44 of Seeds of Chaos is downloadable for Windows / Linux, Mac, and Android here. Please consider supporting us on Patreon.
Files
seeds-of-chaos-0.2.44-pc.zip
303 MB
Jun 02, 2019
seeds-of-chaos-0.2.44-mac.zip
286 MB
Jun 02, 2019
seedsofchaos.version0244-244-armeabi-v7a-release.apk
350 MB
Jun 02, 2019