Seeds of Chaos
Version 0.2.43 Now Public
---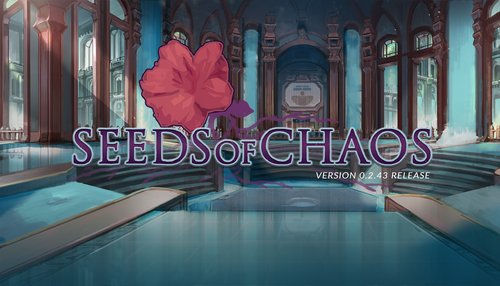 It's the end of the month, so that means it is time for another release. We've just put out our new version for the backers, which focused on continuing the Rastedel plotline, with a few new events to move it forward. As always, the previous backer version is now free to the public.
This release should be a pretty big deal for the Alexia and Jezera fans out there, as the centrepiece is a long event between the two that starts the path of Alexia falling under Jezera's sway. We also have a bunch of other smaller events, including new ruler events, a new job event, and a rewrite of some of the current Cliohna events to take the character in a bold new direction. We've also been making strides on the technical stride, implementing something people have been asking for - the ability to trigger character events from their rooms, as well as setting the foundations to improve the game's core mechanics over the next few months.
ART
This month we have nine new CGs, as well as one new background, and one new background variant:
Elves x Sacrifice CG (Femdom)
Elves x Sacrifice & Rowan CG (Femdom, Handjob)
Rowan x Agatha 1 CG (Monstergirl, Oral)
Rowan x Agatha 2 CG (Monstergirl)
Andras x Rowan CG (Maledom, Exhibitionism, Gay)
Greyhide x Alexia CG (Minotaur, Blowjob)
Ulcro x Delane CG (Orc, Exhibitionism)
Rowan x Orc Woman CG (Orc, Vanilla)
Rowan x Helayna CG (Maledom, Blowjob)
Codifice BG
Plains Night Variant BG
NEW EVENTS
The main focus this month was on advancing Alexia's corruption arc, following the recent addition of the first event in that narrative - The Demon Tree. Players who have been having Alexia spend a lot of time with Jezera will get to see her work her magic on Alexia, and attempt to pull her strings as only the demoness can.
In addition, we have three new ruler events, focused around everyone's favourite wheeler dealer goblin, Cla-Min; two of which feature her interacting with the recently added character, Nasim. We have also overhauled Cliohna's narrative arc, adjusting scenes to focus more on magical elements, as well as added one new job event for Alexia.
This month we have three new sex scenes:

- Jezera x Whores (Yuri)
- Jezera x Alexia (NTR, Yuri)
- Cliohna x Rowan (Mind Control)
Version 0.2.43 of Seeds of Chaos is downloadable for Windows / Linux, Mac, and Android here. Please consider supporting us on Patreon.
Files
seeds-of-chaos-0.2.43-pc.zip
279 MB
May 01, 2019
seeds-of-chaos-0.2.43-mac.zip
262 MB
May 01, 2019
seedsofchaos.version0243-243-armeabi-v7a-release.apk
327 MB
May 01, 2019