Seeds of Chaos
Version 0.2.40 Now Public
---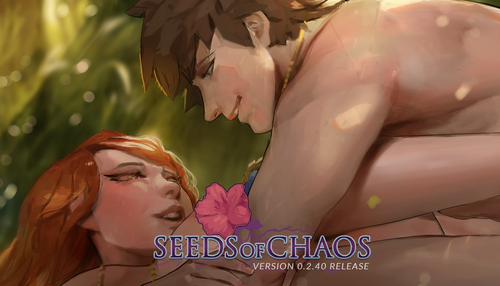 We got the first new release of the year out to backers last week on time, which means the previous version, 0.2.40 is now available to the public. If you haven't played the game in a while, now might be a good time to drop back in. In 2018 we added over two hundred thousand words to the game, fifty new sex scenes, and almost seventy new CGs, so there are lots of new things to see and do. And for the first time, we are also making an android build available, for those of you who want to play on an android device.
In terms of this release, as it is was the end of the year, we decided to focus on putting out a general content release, instead of partially starting an ongoing part of the major story. As a result, this release is a bit of a mixed bag, containing a number of new events of different event pools. December was a short month due to the holidays, but we managed to put in 25k-30k words of new content, and seven CGs, making it the same size as a normal release, despite the shortened development cycle.
ART
As mentioned, this month we have seven new illustrations, with over ten variations:
- Castle Bloodmeen CG
- Rowan x Maid with Helayna CG (Cuckqueaning)
- Rowan x Skordred CG (Gay)
- Jezera x Doran CG (Femdom)
- Rowan x Alexia Picnic CG (Vanilla)
- Tavern Harassment CG (NTR)
- Breeding Pits Harassment CG (Monster)
NEW EVENTS
As mentioned earlier, this month is a bit of a mixed bag when it comes to new content. We have one major story event, the first of a chain that makes up Alexia's corruption narrative. We have also added a new event that warns the player if they are approaching the deadline for the third task set by the twins, with goals still to achieve.
In addition, we have also added four new ruler events, and five new maid job events for Alexia, focusing on her fellow maid, Mary. Lastly, we have added three new events for the ongoing fey narrative, that can be seen in the living quarters after the arrival of the emissaries at castle Bloodmeen.
This month we have three new sex scenes:
- Andras x Alexia (Bathing, harassment, NTR)
- Alexia Corruption Event (Alexia solo masturbation, demonic influence)
- Rowan x Young Aspirant (Gay)
Files
seeds-of-chaos-0.2.40-pc.zip
258 MB
Feb 07, 2019
seeds-of-chaos-0.2.40-mac.zip
241 MB
Feb 07, 2019
com.seedsofchaos.andriod.prod-240-armeabi-v7a-release.apk
306 MB
Feb 07, 2019