Seeds of Chaos
Version 0.2.39 Now Public
---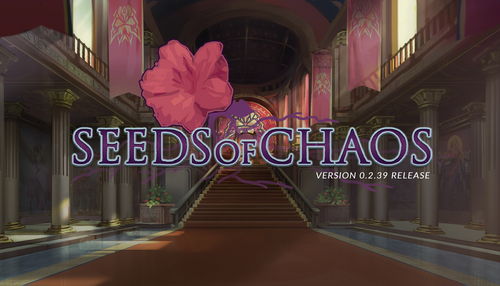 Just before Christmas, we got our new version out to backers, on time once again, featuring a mixture of new content; new job events for Alexia (focusing on her fellow maid Mary), new events for the fey narrative (featuring characters from both the Midnight Court and the Red Sun Alliance), new sex scenes, and more.

The previous backer release, now available to the public, continues where we left off in October, namely on continuing the Rastedel narrative arc, showing the results of the demon twins' plans.
That's not all - we've also added new events (mostly of a sexual nature), and a ton of new art, as we continue to expand the game. 2019 will bring some big changes, including improvements to the mechanics, as well as a whole new realm to explore.
ART
As some of the art didn't make it into the game in the November release, as the story had not progressed far enough, we have a bumper release this month, including nine(!) new CGs.
- Two new Rastedel character sprites
- One new background
- Rastedel Battle CG (with 4 additional variants)
- Prince of Tomes Dark Elf Illustration
- Prince of Tomes Fallen Knight Illustration
- Prince of Tomes Corrupted Queen Illustration
- Jezera (Disguised) x Human Commander
- Andras x Draith CG (Gay)
- Rowan x Helayna CG (Maledom)
- Jezera x Alexia CG (Yuri)
- Delane's Bad End CG
NEW EVENTS
As with the previous release, our main aim was continuing the Rastedel narrative arc, so we have a number of scenes that further the plot through the second phase of the narrative, as well a few events that can occur when Rowan visits the city.
In addition to this, we also have a new ruler event that continues the X'zaratl character arc, as well as a new job event in the forge for Alexia.
This month we have four new sex scenes:
- Rowan x Delane (Anal)
- Jezera (Disguised) x Human Commander
- Alexia x Greyhide
- Alexia Futa Solo Masturbation
Version 0.2.39 of Seeds of Chaos is downloadable for Windows / Linux, here on itch.io. Please consider supporting us on Patreon.
Files
seeds-of-chaos-0.2.39-pc.zip
252 MB
Jan 01, 2019
seeds-of-chaos-0.2.39-mac.zip
235 MB
Jan 01, 2019